WARNING
This version of the database is depricated and will be shut down in the near future!
Please use our new version at: https://soundandscience.net
Object, Instrument, Technology
Authors
Rudolph
,
Koenig
,
Rudolph Koenig
,
Inventor
Details
The manometric flame apparatus was developed by Rudolph Koenig in 1862, and was used throughout the field of acoustics prior to the 20th-century advancement of more precise methods of examining the shape of sound waves, such as the phonodeik or modern oscilloscopes.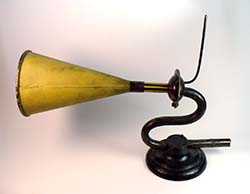 In this device, a sound wave is captured by a cone, which connects to one side of an enclosed capsule. The capsule is bisected by a rubber diaphragm. On the other side, flammable gas is flowing upward to supply the flame. The rubber diaphragm acts as a modulator for the gas flow, causing the height of the flame to change with the pressure variations in the sound.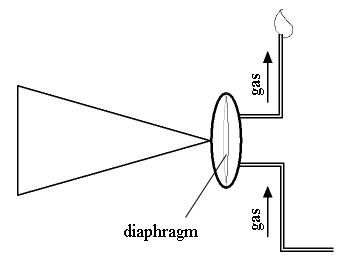 The collection of letters of the Department of Physics, Case Western Reserve University, contains a letter from Rudolph Koenig to A. A. Michelson, 1883, explaining (in French) how to replace the rubber membrane inside the flame manometer.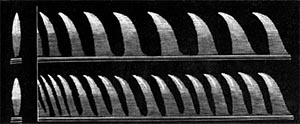 Text & figures by Brian Tinker, republished with the kind permission of Case Western Reserve University and William Fickinger, Prof Emeritus of Physics.
Categories and filter tags
Areas of Study
Instrument Making
Physics and Mathematics
Featured Topics
Description and Visualization
Sound Analysis