Object, Instrument, Technology
Authors
Rudolph
,
Koenig
,
Rudolph Koenig
,
Inventor
Details
The Fourier analyzer, which was called by Rudolph Koenig an "Analyzer of the timbre of sounds", is a large device (about 36 inches tall) for simultaneously observing several components of a sound.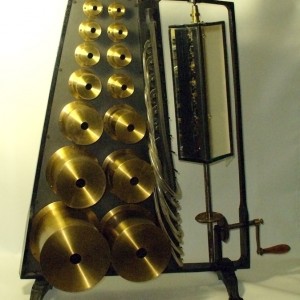 Each of fourteen adjustable Helmholtz resonators of varying sizes can be connected via rubber tubing to one of eight manometric flames, the light from which is viewed through a hand-driven rotating mirror (see fig. 2). The resonators can be individually adjusted to select desired frequencies.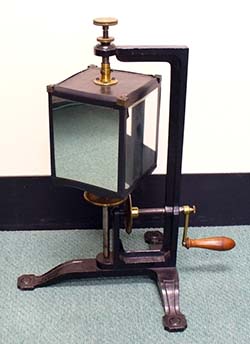 The device was used mainly for demonstration purposes. It could be considered a primitive form of a "multi-channel analyzer".
Categories and filter tags
Areas of Study
Instrument Making
Physics and Mathematics
Featured Topics
Description and Visualization
Sound Analysis
Instruments and Technologies