WARNING
This version of the database is depricated and will be shut down in the near future!
Please use our new version at: https://soundandscience.net
Object, Instrument, Technology
Authors
Rudolph
,
Koenig
,
Rudolph Koenig
Details
A windchest is a wooden box that holds air to be delivered to organ pipes, which are inserted in valved holes. These two examples were used in lectures to demonstrate the different characteristics of organ pipes of varying sizes and shapes.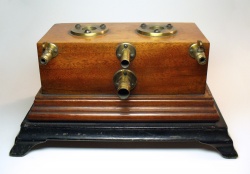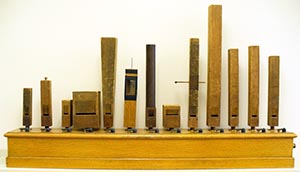 Text, picture & figures by Brian Tinker, republished with the kind permission of Case Western Reserve University and William Fickinger, Prof Emeritus of Physics.
Categories and filter tags
Instruments and Technologies
Sites of Knowledge
Archives and Museums
Workshops
Related objects